The Sand and Dust Storm Warning Advisory and Assessment System (SDS-WAS) is a project coordinated by World Meteorological Organization (WMO) through the Global Atmospheric Watch (GAW) and the World Weather Research Programme (WWRP).
It was launched in 2007 in response to the need expressed by many WMO member countries to have tools for better monitoring and forecasting dust storms and to better understand their impact on weather and climate.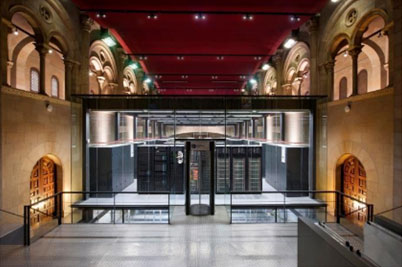 Regional Center for Northern Africa, Middle East and Europe SDS-WAS
The Regional Center for Northern Africa, Middle East and Europe was established in 2010 to coordinate the SDS-WAS activities at a regional level. It is jointly managed by a consortium of the State Meteorological Agency of Spain (AEMET) and the Barcelona Supercomputing Center (BSC). Desde su creación ha coordinado diversas iniciativas de investigación científica a nivel internacional, algunas con un marcado carácter interdisciplinar. Since its creation the Center has coordinated several international scientific research initiatives, some of them with a strong interdisciplinary background. A number of organizations (national meteorological services, environmental agencies, research institutes and international organizations), both from the region and beyond, have participated in the projects. It is worth to mention the close cooperation with the European Centre for Medium-Range Weather Forecast (ECMWF) through the MACC and CAMS programs.
The Center's website has become a landmark, where visitors can find the latest observations and forecasts generated by the most advanced numerical models. The Center's activities include daily model inter-comparison and forecast evaluation performed by comparing them with ground and satellite observations. Also, multi-model products based on ensemble forecasting techniques are distributed.
The Regional Center has participated in various initiatives of international organizations such as the World Health Organization (WHO), the United Nations Environment Programme (UNEP), the Group of Experts on the Scientific Aspects of Marine Environment (GESAMP ) and the European Consortium for the Exploitation of Meteorological Satellites (EUMETSAT).
The potential usefulness of experimental dust predictions has been widely recognized, so that the WMO Executive Council appointed in 2013 to the consortium of AEMET and BSC to host the first Regional Specialized Meteorological Centre with activity specialization on Atmospheric Sand and Dust Forecast (RSMC-ASDF) to operationally generate and distribute daily predictions for Northern Africa, Middle East and Europe. The new center, called Barcelona Dust Forecast Center (BDFC) began operations in February 2014.